Looking for that perfect Instagram photo? We have looked through our city and these are just some of the greatest places we found. You can never know where your next best ''snap'' in Dublin can bring you! Adventure awaits! P.S Don't be afraid to show us either! @castle_hotel_dublin #castlehoteldublin
1) Castle Hotel, Great Denmark Street

No instagram story to Dublin is complete without a Georgian Door! The Castle Hotel has not just 1 but 9 red and blue Georgian doors for you to choose. Look down for cute mosaic tiles too. Our fabulous mirrors and a mixture of antique furniture help create the perfect Instagram background. Sit reading a book? Daydreaming into the mirror? Get creative!
2) Look to the Skies - Zozimus Umbrellas, Anne's Lane & Icon Lane, Temple Bar


Image: @photoproject_LL / Castle Hotel Dublin
Does it always rain in Ireland? Well we got your grey skies covered when you capture these Zozimus Umbrellas, which are one of Dublin's most Instagrammed spots. You'll find Anne's Lane off Grafton Street and a great place for a cocktail. If you're closer to Temple Bar find Icon Lane for the pretty sky mosaic.
3) Ha'penny Bridge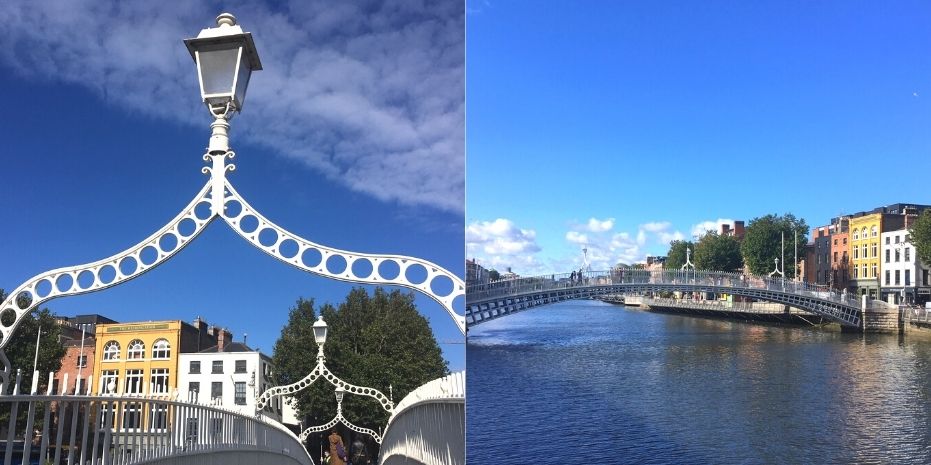 Step on to Dublin's iconic pedestrian bridge for your selfie and capture the 19th century lanterns and wrought ironwork before shopping in Henry Street or exploring Temple Bar. You'll find this bridge on Batchelor's Walk.
4) Clocks and Shops: St Stephen's Green Shopping Centre & Clerys Department Store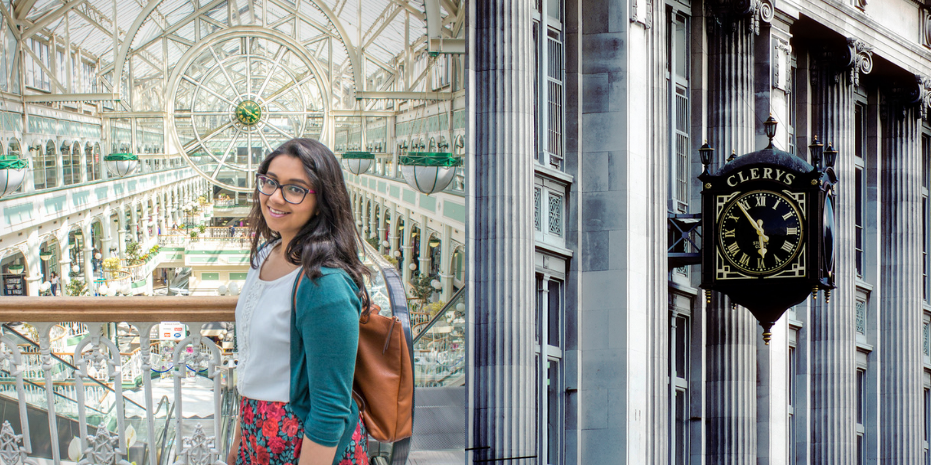 Images credit: @thedjklife / Clerys Department Store

It's time to take the perfect pic in Dublin. St Stephen's Green Shopping Centre at the top of Grafton Street has glorious white arches, a grand glass clock. Be sure to stand on the central staircase for the best light and angles. Forever a meeting spot for friends and lovers, Clery's Clock will soon be unveiled again at Dublin's glamorous new quarter on O'Connell Street.
5) Love Lane, Crampton Court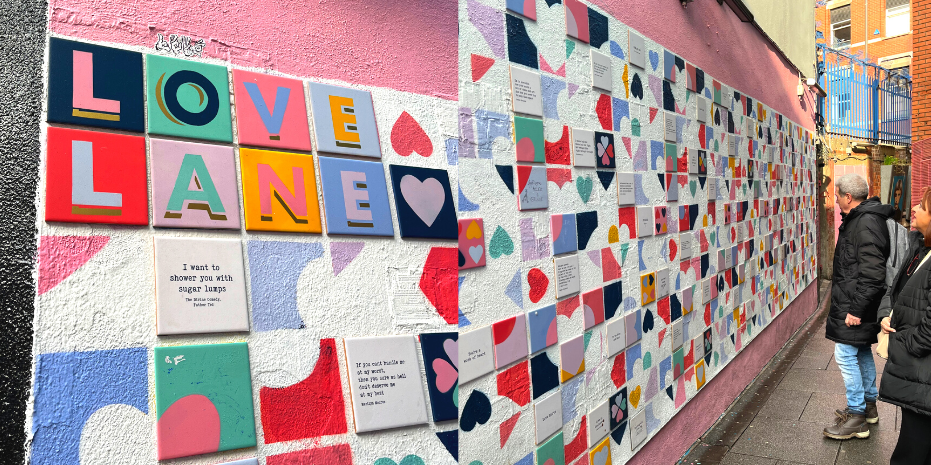 Love is in the air ...we mean tiles! How adorable is Love Lane (Temple Bar) in Dublin? Can you find your favourite tile? Peppered with quotations from famous movies, plays and songs along with the odd Irish proverb. Fill your instagram and stories with these amazing quotes. Created by Artist @anna__doran Share your love with credit.
6) Dublin Pubs

© Fáilte Ireland Content Pool
Did you really stay in Dublin if you didn't get a famous photo of The Temple Bar Pub in Temple Bar? With the pop of Red, accolades, antique signage and the plants hanging down, this pub is perfect for an Instagram backdrop. With 750 pubs in Dublin to choose from, you can bring originality to your story while still capturing the character of Dublin. #dubinpubs #discoverdublin
7) Street Art - Dublin Walls - Various locations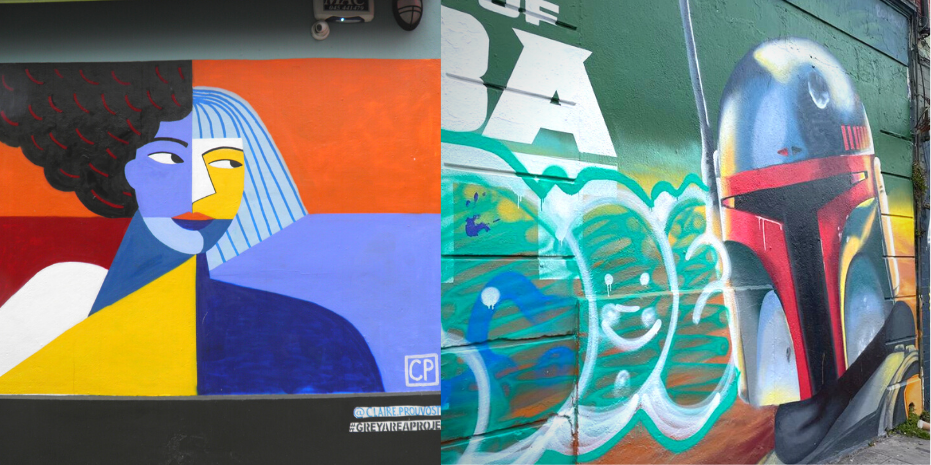 Colour, colour, colour - instagram needs colour. You'll find the funkiest backgrounds and murals in Dublin. This is thanks to the amazing street artists who constantly create and transform throughout Temple Bar, Phibsboro, Drumcondra, North Wall, the Quays, Portobello and Smithfield #dublinwallscollection
8) National Botanic Gardens, Glasnevin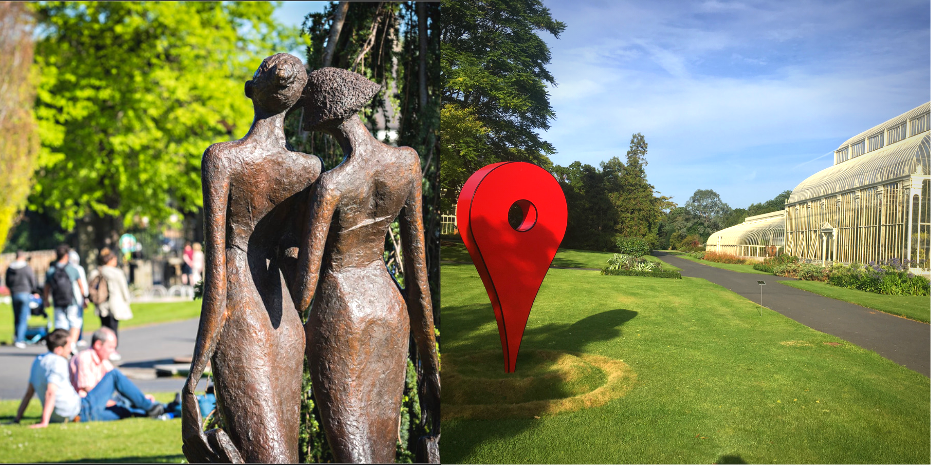 Image Credit: Tony Healy Photography / Castle Hotel
It's no surprise to see a blushing bride and her groom wandering through Dublin's National Botanic Gardens - the glasshouses, sculptures and lush gardens make for incredible photos. 'Pinned' Peter Slyman's playful temporary sculpture (2019) says it all. Pin it to your Instagram in every season. Free Entry. #nationalbotanicgardens
9) Croke Park Skyline

Nothing like a #cityskyline photo of your travels to sum up the excitement you feel! The humble height of Dublin allows you to see right across to the Dublin Mountains. Pure Bliss!

10) Coasts and Cliffs: Killiney & Howth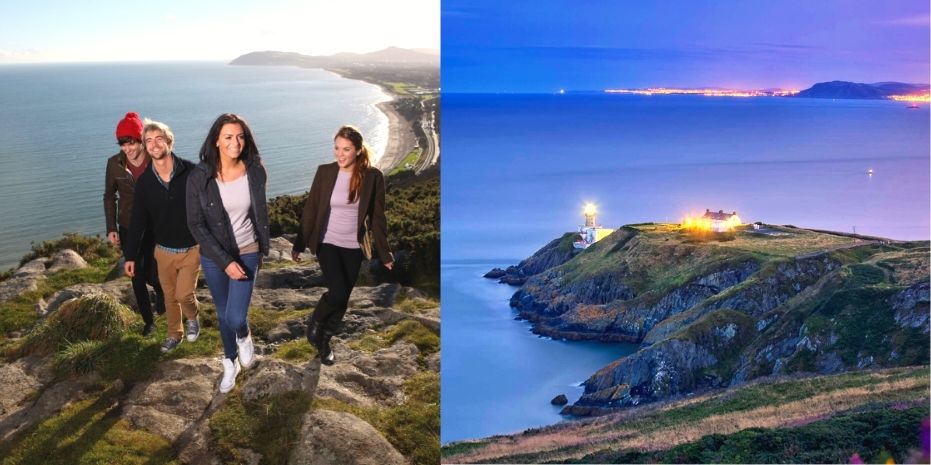 Images: Fáilte Ireland
We're so lucky to be by the coast. Easily two of our favourite recommendations for a stunning day out are Killiney Hill Park & Beach and the Howth Cliff Walk. With easy access by train and good paths you'll snap instantly unforgettable images. #killiney #howthcliffwalk
To be honest, it's so hard to just choose 10 as there are 100s of fabulous places to take photos for your instagram in Dublin. Head off the beaten track and follow your passions for a great travel experience in Dublin.

#comeheretomeDublin #fillyourheartwithIreland #instaireland #instadublin #instagramDublin