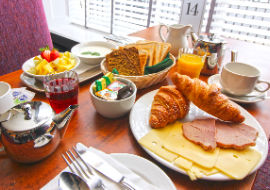 Self Service Buffet Menu
VIEW MENU >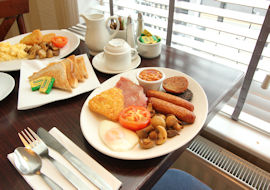 Table Service Menu
VIEW MENU >
BREAKFAST INCLUDED
---
A wide selection of Breakfast options is included with all of our rooms.
---
Self Service Buffet

Served in our
Old Music Shop Restaurant
between
7.00am - 10.30am.
( Located Upstairs)

We offer .... A Selection of Cereals, Fruits and Yogurts, Breads, Cold Meats, Cheeses, Vegetables, Pastries, Juices, and Tea & Coffee.
---
Table Service

Served in the Castle Vaults Restaurant between 7.30am - 10.30am (Located Downstairs)

We offer .... Full Irish Breakfast, Vegan Breakfast, Vegetarian Breakfast, Pancakes, Kids Full Irish Breakfast, Continental Plate, Toast, a Selection of Juices, and Tea or Coffee.