Entertainment Introduction
WATCH VIDEO >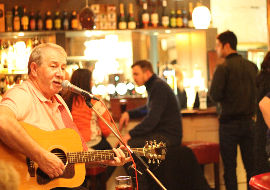 Live Music
WATCH VIDEO >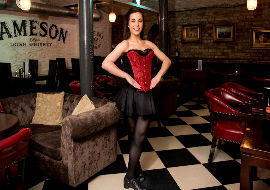 Irish Dancing Introduction
WATCH VIDEO >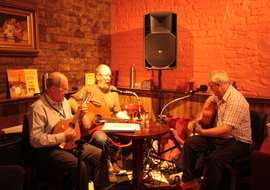 Irish Music
WATCH VIDEO >
ENTERTAINMENT
---
Irish Traditional Music (also known as Irish trad or Irish folk music) is a unique sound which is at the core of the Irish culture and History. Traditional Irish instruments such as The Irish Fiddle, Banjo and Bodhrán (Pronounce Bow'Rawn) play an essential role in making Irish Music unique, combine these together with the Flute, Whistle, Accordion and Banjo and you have a sound that just makes you want to clap your hands and stamp your feet!
Our Live Traditional Irish Music Nights are from Monday to Sunday*
ENTERTAINMENT 7 NIGHTS A WEEK
---
All music starts at 8.00 pm till late, downstairs in The Castle Vaults Bar & Restaurant. Irish Dancing from 9.00 pm

Various Soloists: Monday to Sunday.
Irish Dancer: Friday and Saturday.
Monday - *Guest Singer – Live Irish Traditional Music
Tuesday - *Guest Singer - Live Irish Traditional Music
Wednesday - Ray Cox - Live Irish Traditional Music
Thursday - *Guest Singer- Live Irish Traditional Music
Friday - Paddy Brown - Live Irish Traditional Music followed by Jeanne Kennedy (Irish Dancing).
Saturday - Ray Cox - Live Irish Traditional Music followed by Jeanne Kennedy (Irish Dancing).
Sunday - Dave Dunne – Live Irish Traditional Music
*Some of our frequent Guest Singers include Mick Dunne, Joe Wynn, Daoiri Farrell, and Mick May.


**Acts are subject to change