Covid-19 Statement
A letter from our Managing Director | Updated June 9th 2020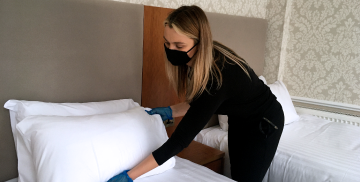 To Our Valued Loyal Guests,
With so many things in a state of flux right now, I wanted to speak to you personally to give you an update on what we are doing at The Castle Hotel, Dublin to remove some of the uncertainty you may have about any travel plans that you have in place, or that you may make going forward.

The Castle Hotel in Dublin's City Centre is currently open. Since March, following Irish guidelines, The Castle Hotel has safely welcomed a modest number of guests; key-workers, engineers and many father's-to-be visiting the nearby maternity hospital. It has been our privilege to be that a 'home away from home' during this crisis. We are delighted to be able to safely welcome more guests from the 3rd July 2020 and to offer a full service at the Castle Hotel.

Before anything else, our absolute first priority is the safety of our hotel guests and our team. As such, we always have high standards for cleanliness and hygiene in place, but in response to the COVID-19 novel coronavirus, we have elevated those standards even higher in an effort to maintain a more sterile environment for our guests and our team. We are currently making changes to make our hotel safer, without diminishing the atmosphere and friendly service.
COVID-19 Measures:
Monitoring Developing Information Closely:
Our team at the Castle Hotel, Dublin, have been closely monitoring the Health Service Executive, World Health Organisation and Merrion Street statements regarding the COVID-19 novel coronavirus, and sharing that new information with our team. We are also taking guidance from Fáilte Ireland, the Licensed Vintners Association and the Irish Hotel Federation as the situation has been constantly evolving. For our international guests we've also been reviewing guidance and best practice from the American Hotel and Lodging Association and our German counterparts, DEHOGA.
On a daily basis we are working to ensure that we meet the latest guidance on hygiene and cleaning. Our hotels' health and safety measures are designed to address not only COVID-19, but a broad range of contagions.
Team Health, Safety and Hygiene Knowledge:
Training our employees to have a high level of health, safety and hygiene knowledge is absolutely essential to having a successful health, safety and hygiene program within our hotel.
Social Distancing:
Central to the Irish Government's Chief Medical Officers strategy for delaying and reducing the spread of this virus is 'Social Distancing'. Our team are practicing 'social distancing' from both team colleagues and guests where possible. The HSE.ie is recommending that we keep a space of 2 meters between each other and to reduce the number of people we meet every day. Our business has taken steps to minimise interactions with guests and between guests. Simples steps like staggering meal times and reservations. Separating the tables in our restaurant and breakfast room. We are making structural adjustments this June to allow for safe social distancing.
Hand Hygiene: Frequent and correct hand washing is vital to help combat the spread of viruses. Our team is reminded daily that cleanliness starts with this simple act. It's important for their health and that of our hotel guests.
Cleaning Products and Protocols: We work with our supplier and vendors to make sure our hotel can procure and use virus-killing products as well as the protective equipment (PPE) they need to use them.
Guest Rooms: The Castle Hotel uses cleaning and disinfecting protocols to clean and sanitise rooms after guests depart and before the next guest arrives, with particular attention paid to high-touch items like remote controls, televisions, telephones, kettles, hand dryers, seat backs, door handles, light switches, table tops, ironing board, safe, taps, toilet handles and seats. Bedrooms across our 9 Georgian mansions enjoy natural ventilation and wide corridors.
Public Spaces: We have increased the frequency of cleaning and disinfecting in public spaces, with a focus on the surfaces of our front desks, lifts (and lifts buttons), door handles, public bathrooms, bar and table tops, chair rails, and shared computer keyboards. We are sanitising our restaurants, bar and public spaces with disinfecting fogging units.

Back of House: In the spaces where our employees work out of public view, our hotels are increasing the frequency of cleaning and focusing on high-touch areas like stairway entrances, locker rooms, laundry rooms and staff offices.
Re-opening Restaurant and Irish Bar: We continue to monitor the guidance regularly. From early July we will be re-opening our Castle Vaults Bar and Restaurant for residents to offer great food, expertly poured pints of Guinness and live entertainment for our resident Irish musicians. More of our alcoves and vaults will be open to allow for social distancing and private dining experience. These spaces will be enhanced to allow the enjoyment of the live entertainment. The Old Music Shop Restaurant will also be re-opened and changes will be made, such as screens, spaced tables, helpful menus and a new one-way system to allow for a safe yet enjoyable breakfast and dining experience. Our dining spaces have been reconfigured to allow 2 metre distancing between each seated group of guests. We have a system in place to allow food be placed at the table adjacent your table to reduce contact with servers. Guidance is clear that alcohol is served with food. Thank you for your understanding and apologise for any inconvenience. On re-opening we will continue to monitor the guidance and make adjustments to allow smooth and safe service.
Revised Reservation and Cancellation Policies
I'd like reserve a room?
Ring 00353-1-8746949 or email info@castle-hotel.ie to make your reservation or book now on our website for the best available rates for July 2020 onwards.
How have you booked?
I booked directly with Castle Hotel Dublin
I have a flexible booking - please call the hotel on +353-18746949 or email info@castle-hotel.ie and we can help.
I prepaid with the Castle Hotel Dublin
I have a prepaid booking such as a stay and save deal or advanced purchases, we are offering you the opportunity to change dates free of charge alternatively we will offer you a like for like voucher so you have flexibility over when to re-book. We are monitoring the situation closely. Please call the hotel on +353-18746949 or email info@castle-hotel.ie
I have booked Castle Hotel, Dublin with an Online Travel Agent such as booking.com, Expedia, hotels.com, HRS Hotels etc
Please contact your travel agent directly as their policies and procedures may differ to ours. Also if you need to cancel you will have to cancel with the travel agent you booked with.
Will my breakfast be included?
Breakfast is now included for bookings from July 2020 onwards. We are delighted to be able to offer a full service including breakfast, lunch, afternoon tea and dinner in our restaurants and bars.
I'm travelling from outside of Ireland - will my booking be affected by the Irish Government Restrictions?
The Irish Government have been discouraging International travel. As part of Phase Two of the easing of restrictions, passengers arriving from outside the island of Ireland are expected to self-isolate for 14 days and fill out a Passenger Locator Form. Please be aware of this for any travel in June and early July. Changes about travel advise are revised frequently and the HSE is a good source for daily updates.
Finally, I just want to thank you for your loyalty to the Castle Hotel, Dublin. At times like these, our family and team believes that giving a warm Irish welcome and providing a personal service and comfort is more important than it ever was, and we will continue to do just that for our hotel guests. We look forward to safely welcoming you.
I hope to see you soon.

Fionn MacCumhaill,
Managing Director,
The Castle Hotel, Dublin